DR. A. NAGARATHNA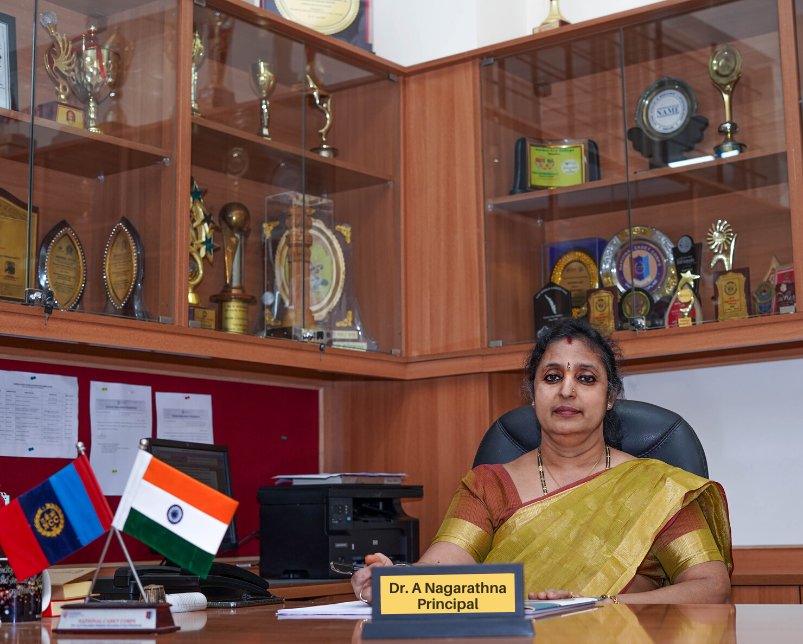 ---
Qualifications: MSc, BEd, MPhil, PhD
Department: Professor & Principal
Designation:Department of Biotechnology / Genetics
Years of Experience: 34 years
Email: principal.msrcasc@gmail.com
Dr. Nagarathna A currently working as professor and Principal in Ramaiah College of Arts, Science and Commerce, having a total of 30 years of experience in Teaching, Administration and Research. She has done her Postgraduation in Zoology from Bengaluru University and a Master degree in Philosophy and education. She completed her Doctorate in Animal Biotechnology from Bengaluru University.
She has worked in various capacities in different colleges before being appointed as a Principal in 1994 at the Oxford college of Science, Bengaluru. Under her leadership the colleges were successful in completing ISO9001-2000 and also the NAAC accreditation with an 'A' grade for third consecutive time.
Dr. Nagarathna has a flair for updating her knowledge and helps other associated with her to do the same. she has organized more than 15 National and International conferences, Faculty Development Programme and Science Nurture Camps. She has presented more than 40 papers in various National and International conferences. She has delivered more than 15 special lectures in various places.
Her academic achievements is stay tuned with the desire of being learnable at all stages of her professions. She has published more than 30 research papers in various National and International journals. Has visited countries like Malaysia, Thailand, Nepal and had travelled across India.
She has the credit of authoring text book for degree students an "Environmental Studies" and a text book for Zoology for degree classes. A text book in Environmental Biotechnology is under Publication. She has guided 7 students for their M.phil and a recognized guide for leading Universities in South like Periyar University, Salem, PRIST University, Thanjavur and Bharathiyar University, Coimbatore. 2 students are working under her for Ph.D.
Dr. Nagarathna is also a member of Board of Studies (BOS) and Board of Examiner (BOE) in Bengaluru University and has served as a member of Academic Council and Syndicate of Bengaluru University. She is the Life Member of various professional Bodies like All India Bee Keepers Association, Indian Science Congress Association, Member of Ethological Society of India and Society for Advancement of Science and Rural Development.
Dr. Nagarathna has several awards to her credit. She has been selected as a Fellow of Society of Applied Biotechnologists. She is a recipient of Senior Scientist Award in the Senior Category in the International Conference held during 2009. She has won the certificate of excellence for outstanding achievement and service in the field of Education and Research in 2009 awarded by Public Relation Council of India and Rotary Club during International Women's Day held at Bengaluru. Apart from Academic achievement, she has a flair for Non academics too.
She has completed her junior in Music (Veena) and Dance.