Commerce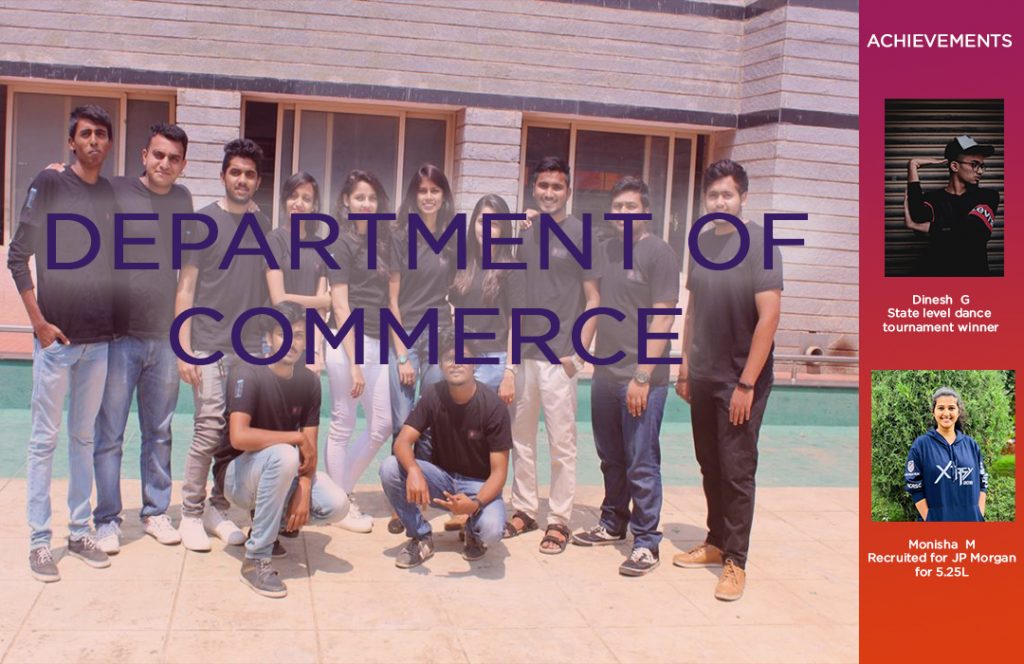 Department Objective
"To create and nurture potential youth power to cater to the needs of future Business Scenario"
The Department of Commerce was started in the year 1994 with student strength of 22 and at present with strength around 600. Students from various states in India and other countries are studying in the department. The department has well qualified and experienced faculty in teaching, most of the staff members have research qualification to their credit. The department has spacious classrooms with modern furniture. The Department of Commerce has been a vibrant department with staff members who are dedicated and committed to the needs of the students. Hence students aspire to get admitted in the department to enjoy the best of both the academic ambiance of the MSRCASC campus and the humane curricular exercises giving enough scope for the development of their personality. The curriculum is given effect to by a distinguished team of faculty combining academic excellence and real-world experience. The outcome of this effort can be seen in the form of placements in reputed MNC's, financial institutions and other sectors.
Program Offered
Eligibility Criteria for B.Com
Pass in 10+2 / equivalent in any discipline.
Eligibility Criteria for M.Com
Bachelor's degree in Commerce from a recognized university
About the Program– B. Com
B.Com. is a very popular course chosen by the students who want to excel in areas of Accounts, Audit, Finance, Marketing, Industrial Relations, of E-Commerce and Taxation. This is a 3-year graduate program recognized by the University and is accepted well by the industry. The B.Com. The course is divided into 6 semesters.
Some of the subjects covered during the course of study are as follows: Financial Accounting, Business Statistics, Corporate Accounting, Marketing, Financial Management, Law & Practice Of Banking, Entrepreneurship Development,Income Tax. Electives are offered in the following areas: Finance and Accounting and Banking and Insurance.
A variety of teaching and assessment methods are used throughout the course including lectures, seminars and assignments. Right through the semester, the student will be evaluated on a continuous basis through Continuous Internal Assessment (CIA) and End Semester Exam (ESE).
About the Program – M.Com
The PG course M.Com is started in 2019. As of now, total strength of the course is 37 students. The department carries the pride of well qualified and experienced teachers. The department organizes many guest lectures, workshops, seminars and value added courses, FDP's for students and teachers development.
Strengths
Experienced and qualified faculties in their respective areas of specialization
Student centric teaching-learning evaluation
Comparatively our department possess more student strength in terms of number
Remedial classes are organized at the end of every semester to improve learning capacity of slow learners
Advanced coaching for centum scoring
Skill development and soft skills programs for students
Highlights of the Department
Commerce week
Commerce week Report View